In this issue
Office of the President
CAHPI National Conference
Canadian Home Inspector Magazine
Dell Member Purchase Program
Promote Your Business
Office of the President
CAHPI Announces NOS Revision Completion
CAHPI is pleased to announce the completion of the review and revision of the 2008 National Occupational Standard for Home and Property Inspectors. CAHPI recognizes and willingly accepts its leadership responsibilities to the home inspection industry as well as to its stakeholders. For many years now CAHPI has dedicated itself to writing Standards of Practice and Codes of Conduct for its members and standards and protocols for the industry.
The NOS review and revision process brought together a group of experienced, respected inspectors from all across Canada and was facilitated Mr. Jeff Griffiths of Griffiths Sheppard Consulting Group, Calgary Alberta. The NOS working group collaborated through CAHPI National's SharePoint online portal to communicate remotely at a significant cost saving. The revised NOS is now in final draft and will be published this fall.
CAHPI, on behalf of its members and industry stakeholders, extends its gratitude to the NOS working group for committing to the revision of such an important document to our competency model. CAHPI 2013 NOS
Do you have questions or comments. Reach us at
CAHPI National Conference
November 8 - 10, 2013
Hilton Lac Leamy, Gatineau
Register Today! This year promises to have excellent educational sessions including a bonus day on Friday! The exhibitors are excited to showcase their products and services. Don't miss this opportunity to earn 18 plus CEUs and network with inspectors from every province. Attendees will have a chance to win an iPad 16MG with Wi-Fi and hotel guests at the Hilton have chance to win their stay! (max 3 nights) Book your room online today with the Hilton Lac Leamy.
back to the top
Canadian Home Inspector Magazine
The fall issue will be available in early December. Check out the previous issues all available on the CAHPI website.

Username: magazine
Password: cahpi2013


Take advantage of exclusive offers which include upgraded support and security software. This offer is only applicable on personal purchases through the Dell Member Purchase Program.
Dell Member ID:6162451 You can view all the exciting deals on PCs, tablets and thousands of electronics anytime by visiting the Dell MPP website (site français), or by contacting a sales expert at 1-877-297-6974 or .
back to the top
Promote Your Business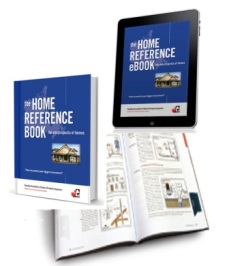 CAHPI Home Reference Book
This book is a great tool for generating more business and referrals. Agents and clients alike would appreciate a tangible product serving as a reminder of a job well done.

This book provides system-by-system coverage of 9 distinct parts of the house including Roofing, Exterior, Structure, Heating, Cooling, Plumbing, Electrical, Exterior, Interior and Insulation. The CAHPI 2012 National Standards of Practice are included.
Below are some samples of the content from the CAHPI Home Reference Book.
CAHPI Members: 30% Discount - Order Today!

back to the top