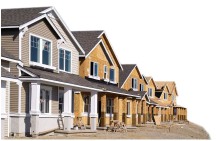 The training is based on the revised PDI Protocol and will be offered on-line to OAHI members with training available across the country later in the year.

The program focuses on performing inspections of new homes either at or after the Pre-Delivery Inspection phase. Emphasis is placed on understanding the process and working with home builders, the Tarion Warranty Program, municipalities and most importantly - homeowners, to provide value in a consistent and professional manner.

The course is now available through a self-paced online delivery format. Participants will take a timed online examination on completion of the program. Results will be available immediately after finishing the exam. Upon successful completion of the program, which includes passing the exam, participants will receive a "Letter of Completion" leading to the credential - CAHPI New Construction Inspector NCI) after successful completion of the Report Review process.

REGISTER NOW! – Carson Dunlop Store
We are offering a $500 introductory special pricing for a limited time. Earn back the entire course fee in your first inspection! The regular pricing is $665.
Horizon Report Writing Module for New Construction
There is a Horizon database for Tarion New Construction Inspections. To order or learn more, call 800-268-7070 ext 243.